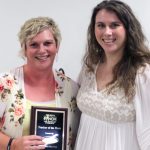 Teachers make a big impact on the lives of the young people within our community. That's why 95.9 the Ranch and Van Griffith Kia have teamed up to salute our local teachers by selecting a teacher of the week to recognize weekly.
This week's teacher of the Week goes to Mrs. Mindy Rose at Granbury High School!  Mrs. Rose was nominated by Jason Shahan and this is what he had to say about her;
"Mrs. Rose is as country Texan as a yellow rose until she starts speaking the Spanish language that she excels in and shares with students every day. She then becomes this la mujer elegante flowing the Spanish language like she is in the historic streets of Spain. Though she is a Spanish language expert, this isn't what makes her a phenomenal teacher. The relationships she establishes, nurtures, and evolves with her students is what makes her so special. Students of Mrs. Rose love going to her class each day because of the interaction and attention she gives to each kid to make them feel special and welcome in her class. Students constantly beg cafeteria monitors to allow them to go eat with Mrs. Rose because they love spending time hearing and sharing stories with her. She is true testament of how a positive attitude and caring relationship with students can motivate any student to learn, even if it is a different language!"
If you know a fantastic teacher that you'd like to nominate fill out the form below and hit submit. We'll select one winner each week and the Ranch promo crew will show up to surprise them with a prize pack including a $100 Gift Card to Daireds Salon Spa Pangea, $50 Visa Gift Card, an oil change from Van Griffith Kia, and more! Tune in to Justin and Jeremy Tuesday mornings at 7:10am for the announcement of the weekly winner right here on the Sound of Texas 95.9 the Ranch.