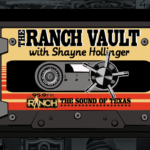 It's back!  Shayne Hollinger is bringing back The Ranch Vault, now on Saturday nights from 9PM-Midnight.  Back in his early days with the Ranch, Shayne used to host The Vault from 11PM – 2AM and introduced Ranch fans to some of the most iconic music ever.
Now Shayne's bringing it back.  Join 95.9 The Ranch's Program/Music Director as he spins 3 hours of the greatest music ever recorded straight out of his personal collection of music he's been gathering for nearly 30 years.  The show will highlight the folks that paved the way for the current Texas music scene, like Jerry Jeff Walker, Guy Clark & Gary P. Nunn, to music from the early careers of artists like Pat Green, The Randy Rogers Band and Cross Canadian Ragweed, and some amazing artists you may have forgot, like Mike Graham, The Derailers, Kyle Bennett and more!
SATURDAYS 9PM-Midnight
BROUGHT TO YOU IN PART BY
The Ranch Vault is the perfect opportunity to sit on your porch, crack a cold one and reminisce about the music that started it all.
---
The Vault Podcast Archives