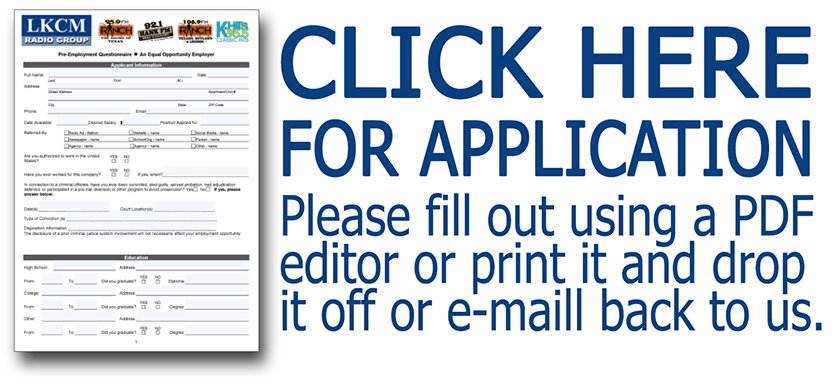 LKCM Radio Group, LP (KFWR,KTFW, KRVF) is an equal opportunity employer. We would like to widely publicize our job openings. Any organization that regularly distributes employment information to job seekers or refers candidates to employers is eligible to receive information about our job vacancies. To receive our listings by fax, e-mail or US Mail, please contact us! Provide us your organization's name, your name, address, telephone number, fax and e-mail address and we'll contact you to confirm the information.
We are always accepting resumes via fax or mail for current and future open positions. Please include a cover letter to introduce yourself, and specify what department(s) you are interested in: Programming, Promotions, Sales, or Business Office.
By e-mail: Subject (Attn: desired department) / jobs@theranchradio.com
By mail: Attn. (desired department) / 115 West 3rd St. / Fort Worth, TX 76102
By fax: Attn. (desired department) / 817-348-8373
Open Positions
---
NOW HIRING: Account Executives (KFWR / KTFW / KFWR / KTWF)
Looking for an exciting career change? Are you motivated and do you like people? Have you ever thought about working in radio? 95.9 The Ranch and our sister stations 106.9 The Ranch, 92.1 Hank FM and 95.5 Hank FM are hiring for Account Executives. Account executives at The Ranch create integrated marketing programs that help businesses grow. It's full time employment with great benefits! Experience in advertising or sponsorship sales is recommended. Digital sales or event marketing are a plus.
Please send resumes and cover letters to Jobs@TheRanchRadio.com. 
NOW HIRING: Promotions Assistants (KFWR / KTFW)
95.9 The Ranch & 92.1 Hank FM in Fort Worth, TX is seeking additional Promotion Assistants to join the growing and fast paced Promotions Department. They will be responsible for supporting station events and interacting with our listening audience.  Must be an outgoing person with a positive personality, dependable and a people person.  Weekday, weeknight, and weekend shifts available.
Qualifications
·         Minimum age of 18
·         Valid Driver's license with clean driving record
·         Positive Attitude
·         Outgoing Personality
·         Availability to work nights and weekends
·         Drive to improve oneself and those around them
·         Clean professional appearance
Responsibilities
·         Represent the stations at a wide variety of events ranging from major concerts, remote broadcasts and station appearances
·         Must have a positive attitude at all times while working regardless of other issues.
·         Not afraid to make a little bit of a fool of yourself with a little dancing, talking on a PA system and engaging a crowd.
·         Help with in office duties as directed by the Promotions Coordinator
·         Must be quick on your feet and overcome unforeseen obstacles as they happen
Working Conditions
·         Must be able to stand and be active for long periods of time
·         Lift equipment up to 50 pounds
·         Work outside in all-weather types
Contact: E-mail your resume or questions to jennifer@theranchradio.com 
EEO
---
95.9 The Ranch is an equal opportunity employer.
Federal Transparency In Coverage Rule
---
This link leads to the machine-readable files that are made available in response to the Federal Transparency in Coverage Rule, and includes negotiated service rates and out-of-network allowed amounts between health plans and healthcare providers.  The machine-readable files are formatted to allow researchers, regulators and applications developers to more easily access and analyze data.