There are quite a few couples in the Texas & Red Dirt Music Scene but typically not in the same band.  This is not the case for The Gibbonses which is made up of Brandon and Jackie Gibbons.
About two years ago I kept hearing people talk about The Gibbonses and one fateful night at Magnolia Motor Lounge we finally met.  They instantly became some of my favorite people.  They're genuine, honest and kind.  Musically; powerful, in sync and eclectic.  When they met, Jackie was the singer in a show band for Carnival Cruise Lines and Brandon was the big boss.  They became close friends and eventually fell in love.  The rest is history.
They have a creative approach to playing music for a living as the band is Jackie on percussion and vocals with Brandon on guitar and harmony vocals.  These two even make their own merch.  When you catch a live show you can see the sparks still flying while they keep the crowd entertained and involved.  Buy the music, get to a show, sit down and chat with them.  You'll be friends forever afterwards!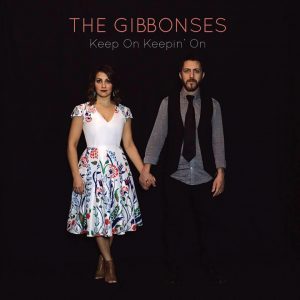 [Facebook – The Gibbonses]
 The Gibbonses – Keep On Keepin' On
Share & Enjoy