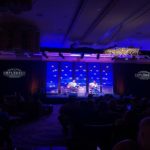 People ask me all the time (those who are unfamiliar with the Texas/Red Dirt scene), what is the music like? How is it different than other country music songs because I hate the way country sounds now. So I don't listen.
My mind often travels in a million different directions when I want to explain the difference, but one of the biggest things for me is the blurred line between musician and fan.  How easy they are to talk to and how much they are a fan of the music as those who listen are.
This weekend at Cowtown Unplugged proved even more how much the artists want to interact with fans and talk with them all while enjoying great music from other artists.
If you have never been apart of an intimate songwriter showcase. I highly suggest you go. It is well worth the money.  Not only do you get to listen to amazing music wrote by artists, but you also get to hear stories of where the songs came from, the struggles the artists went through, the fails and the successes they had along the way.  Not only that you get moments like this
Cody Canada covering ZZ Top, which I learned he was a huge fan of and friends of Dusty Hill (who we just lost).  You get to see moments like this and truly listen to the music with out the loud bar or concert ambiance of people.
I saw Jonathan Tyler talk with people who heard him for the very first time live, talk with them for 30+ minutes.  I sat at the back of the room with Cody Canada as Cody & Willie Braun played and shared stories and Cody singing every song word for word jamming with them.  Person after person go up and talk to the artists and thank them for their music and take pictures.  It wasn't a hurry up and move to the next it was eye to eye contact and listening.
Cody & Willie Braun shared about a new album about to release that they have been holding on to for 20 years! They were in the studio on September 11th when the world stood still.
These are just a few things you get when you go to a Songwriters Showcase.  These are things you get with Texas/Red Dirt Artists.  Blurred Lines.  Artists who are fans just like you and myself.  Next time you are asked about what Texas/Red Dirt music is.  Tell them not only is it better in ever aspect – but it is respectable and appreciated by fans and artists alike.   They love meeting and talking with you just as much as you do with them.