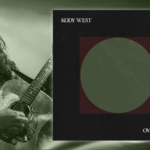 Howdy folks, Shayne Hollinger here, and while being quarantined at the house a new album dropped that you need to know about.  8 songs are about to move Kody West to the next level.  The Denton native has been on our radar since he made it to the Finals of the Ranch Factor competition a few years ago.  I first saw him live when the Ranch and I were broadcasting from the Landmark in Fort Worth one Sunday night.  His grandparents were there to support him and we had a great conversation about all the hard work he was putting in.  When you talk to Kody, you don't get the sense of the Rockstar personality that should be there.  The guy is extremely talented, and his band is one of the hottest live bands you will ever see.  Kody, and the rest of the guys in the band though, are extremely humble.  It's a personality trait that makes you want to root for their success.
However, while being humble is great, it's also time for the band to be proud.  Kody West just released their latest album called "Overgrown" and it is unbelievably good.  Ranch fans have already heard two of the songs on the album, "October" and "Alone".  When listening you almost get a 90's Grunge feel to them, part Nirvana, part Gin Blossoms and all Kody West.  Powerful guitars, driving bass, a pounding drum and Kody's vocals that evoke such emotion, almost a desperation in his voice that forces you to physically feel each lyric in the song in a way that you can't help but sing along.
I'm proud to say I'm a Kody West fan, and I can't wait for people to get a chance to sit down and listen to this full album.