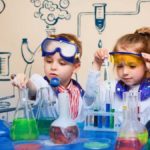 Keep your kids learning while at home from school with the following STEM (science, technology, engineering, math), art and general education programs.
Other Goose
To support all quarantined families, Other Goose's charter school-approved curriculum is 100% free for the next three weeks. Simply click here, create a profile for your kids' ages (2-7 years), and get started with simple, easy to implement ideas or lessons for the kids to try every day. 
Outschool
Outschool is a resource for those wanting to keep their kids engaged and learning from home with over 10,000 live, online classes conducted via video chat. Outschool classes can be used to fill in gaps where school districts are unable to provide full-time remote schooling. Outschool teachers are background checked and classes are vetted to ensure they are safe, age-appropriate, objective and secular. Outschool is offering free classes for families (limit $200 per family) affected by school shutdowns at public schools. Read the full announcement by clicking here. 
PBS Kids
PBS Kids has created a free, daily email newsletter with educational activities for parents of young children. These activities can help engage children in both learning and playtime; click here to subscribe.
Scholastic
Scholastic has launched a "Learn at Home" website that has daily courses for students from pre-k to grades six and higher. The website, which is divided into four sections based on grade level, currently has five days' worth of content, with an additional 15 days of content to follow soon. 
Art for Kids Hub
Art for Kids Hub is a family-friendly YouTube channel that teaches children how to draw in a fun way. Each video includes the leading artist, Rob, and one of his four children drawing alongside him. On-screen, he'll draw a line or shape, and then his co-artist will draw the same thing. The camera shows both drawings side by side so the viewers can see exactly what to do. Kids can pause the video while they draw or rewatch a section if they don't understand the instructions.