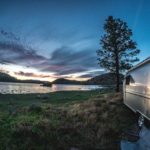 Justin & Heather both say just give me the money!
There is a company that wants to pay you $1000 just by taking an RV to a national park. The catch, you can't have any technology for 48 hours.  Digital Detox is what they are calling it.  The company, Satellite Internet, just wants you to blog the experience.
Satellite Internet said it will provide an Internet hotspot at the end of the 48-hour period for the winner to share details of the experience online.
The company said the contest is open to those over age 25 with a valid driver's license and eligibility to work in the United States. A winner will be announced Sept 23.
Want to sign up?