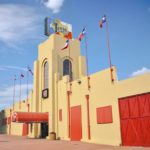 Billy Bob's Texas Celebrates 40th Anniversary With Some Of
The Biggest Names In Country Music Including Hank Williams Jr., Larry, Steve & Rudy: The Gatlin Brothers, Midland, Dwight Yoakam, Miranda Lambert, The Bellamy Brothers & More
FORT WORTH, Texas –  Located in the heart of the Fort Worth Stockyards National Historic District, Billy Bob's Texas first opened its doors in April of 1981. Since then, music stars of all genres and generations have graced the stage for more than 17 million visitors of all walks of life to enjoy live music every weekend, making it an iconic stop in Texas. Not only is Billy Bob's Texas a country music lover's dream, but it has also hosted music's biggest names from all genres over the past 40 years. Ranging from today's hottest stars such as Luke Combs and Kacey Musgraves to rock legends such as the Styx to the most recognized artists in country music such as Willie Nelson and Johnny Cash, the talent alone speaks to the caliber of the venue. Along with concerts, the unique atmosphere of the "World's Largest Honky Tonk" also includes live bull riding, and two-step and line dance classes for guests to embrace their inner cowboy. Billy Bob's Texas has started a year-long celebration for its 40th Anniversary by bringing in some of music's most well-known artists as well as a few up-and-coming stars from across the nation. 
As part of the special anniversary celebration, there will be a cake cutting, vintage memorabilia display, commemorative 40th Anniversary merchandise and a special word from Billy Bobs' partners, friends and more! The celebration will take place on Thursday, April 1st from 6-9 pm with an exclusive performance from the Gatlin Brothers beginning at 9 pm. The performance will take place 40 years to the day since the Gatlin Brothers performed on opening night in 1981.
The 12-time ACM "Country Music Club of the Year" certainly did not disappoint with the broad lineup of talent from beginning to end as part of their milestone celebration in April. Starting out strong, Larry, Steve & Rudy: The Gatlin Brothers (Apr 1) will kick off the festivities, followed by a blend of southern blues, rock, and country from Country Music Hall of Fame member Hank Williams Jr. (Apr 2 & 3), iconic country artists Midland (Apr 8, 9 & 10) and Dwight Yoakam (Apr 15, 16 & 17). Country music superstar Miranda Lambert (Apr 22, 23, & 24, May 1 & 2) will be bringing her loveable yet fierce energy to the stage, as well as American pop and country duo The Bellamy Brothers (Apr 30) to close out the month just as exciting as it started. Fans will not want to miss these unforgettable performances this month at the legendary Billy Bob's Texas!
40th Anniversary Coffee Table Book:
Billy Bob's Texas has released a book titled, "Billy Bob's Texas: 40 Years at the World's Largest Honky Tonk." The book features everything Billy Bob's Texas and includes historical documents, vintage photography, and personal anecdotes. The Billy Bob's Texas 40th Anniversary coffee book takes a never-before-seen look into The World's Largest Honky Tonk. The result is a collection that explores the rich history and larger-than-life stories of Billy Bob's Texas.  The books will be available in Billy Bob's gift store in person and online on April 1st.