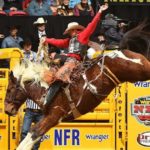 The hottest tickets in town is to the Wrangler National Finals Rodeo 2020 at Globe Life Field in Arlington and your station for Texas Country is going to send you and 3 of your friends!  
Starting Monday, Nov 23rd, text "NFR" TO 817-877-1959 every time you hear a song with the word RODEO in it.
Monday, November 30th, Justin & Heather will call somebody who entered, if they pick up the phone, they win!
You can't buy these tickets, but you can win them from 95.9 The Ranch!