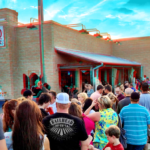 The 95.9 the Ranch Pickin' Party at the Railhead Smokehouse in Willow Park returns Tuesday nights March 21 – May 30!  We start registration each Tuesday at 5pm and take the first 10 contestants who will showcase their talents for a $100 cash prize each week and a chance to win 8 hours of studio recording time from Bart Rose at Fort Worth Sound!   Not an artist, come out and enjoy the patio, hot food, cold drinks, and live music.  You never know who you might see and be able to say "I saw them when…"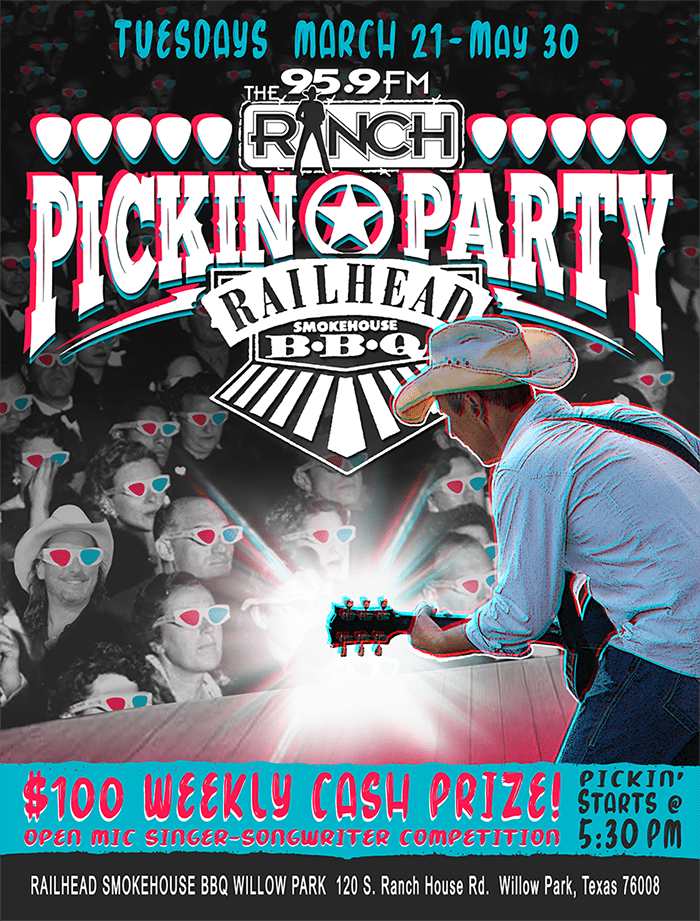 Tuesdays 5-7pm  /  Registration 5-5:30pm  /  Start Pickin' at 5:30pm
Brought to you by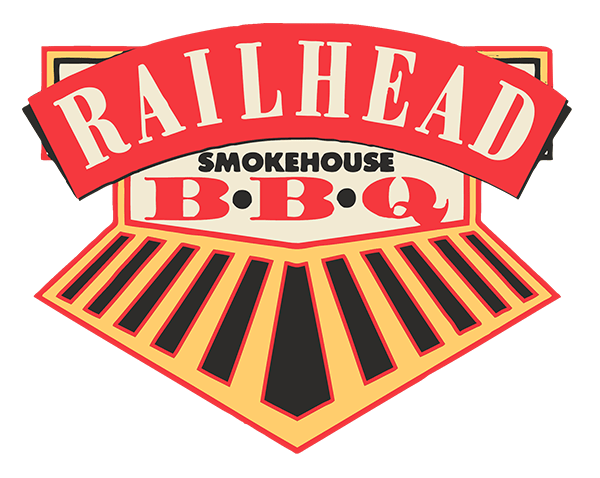 FREE CONCERT 7-10PM
03/21/23 – Kaleb McIntire / Randy Brown
03/28/23 – Jamie Richards / Randy Brown
04/04/23 – Holly Beth / Randy Brown
04/11/23 – Buddy Jewell / Randy Brown
04/18/23 – Wynn Williams / Randy Brown
04/25/23 – To Be Announced
05/02/23 – Sundance Head / Randy Brown
05/09/23 – Zane Williams / Randy Brown
05/16/23 – Curtis Grimes / Randy Brown
05/23/23 – Hayden McBride / Randy Brown
05/30/23 – Deryl Dodd / Randy Brown
---
2023 95.9 THE RANCH PICKIN' PARTY RULES AND REGULATIONS
ELIGIBILITY:
NO PURCHASE NECESSARY.  Open to legal residents of the United States.  Employees and Directors of KFWR, 95.9 The Ranch, The Railhead Smokehouse in Willow Park, their affiliated companies, participating Sponsors, information providers, content providers, subsidiaries, advertisers, advertising agencies, promotional and marketing agencies (and their immediate family members and those living in the same households) are ineligible.  By participating, you agree to these Official Rules and to the decisions of the judges, which are final and binding in all respects.
ADMINISTRATOR:
95.9 THE RANCH
SPONSORS:
RAILHEAD SMOKEHOUSE WILLOW PARK
DISPATCH WRECKER SERVICE
FORT WORTH SOUND
MACLASKEY OILFIELD SERVICES
PLATINUM COLLISION
TITAN READY MIX
HOW TO PLAY/SCHEDULE OF EVENTS:
Each week, beginning on Tuesday, March 21, 2023 and ending on Tuesday, May 30, 2023 at The Railhead Smokehouse in Willow Park, KFWR, 95.9 The Ranch will host THE RANCH PICKIN' PARTY.
REGISTRATION BEGINS AT 5:00 PM:
Contestant may sign-up, free-of-charge, at the 95.9 The Ranch Registration/Promotional Table on-site at the Railhead Smokehouse in Willow Park, TX.
NOTE: CONTESTANT MAY PERFORM SOLO OR WITH UP TO ONE (1) ACCOMPANYING MUSICIANS.  NO MORE THAN TWO PERFORMERS TOTAL.  ACOUSTIC ACTS ONLY.  MUST BE ORIGINAL SONGS; NO COVER SONGS ALLOWED.
REGISTRATION ENDS AT 5:30 PM:
The first ten (10), first-time, contestants are guaranteed a slot to perform.  Thereafter, the remaining open slots, if any, will be filled in with previous Ranch Pickin' Party contestants.  Previous contestants will be randomly selected at 5:30 pm to fill remaining slots, up to (10) performers per event. Registration forms are then placed in random selection to determine the order of performance.
START PICKIN' AT APPROXIMATELY 5:30 PM:
The contestant order of performance is announced.  The contestant will be called-up, based on the previously determined order, to perform one (1) original songs.
NOTE: SONGS MUST BE ORIGINAL; NO COVER SONGS ALLOWED.
VOTING IS OPEN TO PUBLIC FOLLOWING THE LAST PERFORMANCE:
After all contestants have performed the Ranch promotions staff will be accepting paper ballots for public voting to determine the winner; everyone in attendance may vote only once at The Ranch promotions tent.  Any attempt to tamper or undermine the integrity of the voting process will not be tolerated.  Winner is based on 40% fan vote and 60% on-site judge(s).  Judge(s) decision is based on vocal/instrumental ability, and stage presence/ charisma.
WINNERS ARE ANNOUNCED AT APPROXIMATELY 7PM:
A Representative of KFWR, 95.9 The Ranch, will announce The Ranch Weekly Winner.
MISCELLANEOUS INFORMATION:
Those who have competed in previous weeks but did not win are eligible to compete in the following weeks.  However, first-time contestants are guaranteed a spot in the first (10) available open spots before a repeat contestant.
NOTIFICATION AND AWARDING OF PRIZES:
By accepting a prize, winner(s) release and discharge all sponsors, affiliated companies and their parents, subsidiaries, advertising, and promotion agencies, and all their respective employees, officers, directors, representatives and agents from any liability or damage due in whole or in part to the award, acceptance, possession, use or misuse of any prize or from participation in this contest.  By participating in this contest, any and all semi-finalists and winners, except where prohibited by law, grant KFWR, 95.9 The Ranch and all other sponsors the right to use the winners name, likeness, picture, portrait, hometown, voice, biographical information, written submissions and written or oral statements, for advertising and promotional purposes without additional compensation.  KFWR, 95.9 The Ranch and The Railhead Smokehouse in Willow Park, and any parties affiliated with them, are not responsible for any error in registration and or in the voting process.  All decisions on prizes and winners are final and are not subject to review based on allegations of voting error, improper voting, and/or level of attendance during time of performance.  KFWR, 95.9 The Ranch and The Railhead Smokehouse in Willow Park reserve the right to refuse anyone entrance into this contest.  KFWR, 95.9 The Ranch will have the final say as to who the winner is.  Contest will last 12 weeks.
PRIZE FOR WEEKLY WINNER
$100 CASH
NOTE: CONTESTANT IS PROHIBITED FROM DISTRIBUTING ANY MARKETING MATERIAL RELATED TO SALES AND/OR PROMOTIONS OF THEIR OWN ACT TO INCLUDE CDS, T-SHIRTS, FLYERS, MERCHANDISE AND ANY OF THE LIKE.  ANY CONTESTANT NOT ABIDING BY THIS REQUEST WILL BE DISQUALIFIED FROM THE 2023 CONTEST.
RULES ARE SUBJECT TO CHANGE AT ANY TIME.