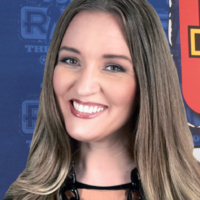 Elle
MONDAY to FRIDAY -- 06:00 AM - 10:00 AM
From her first time singing with her daddy at church at age two, to leading the band as the feature baton twirler at Kansas State University, to hosting music festivals and charitable events, Elle has been in front of a crowd since the beginning. Radio was a natural transition in her college town of Manhattan Kansas. Since then, she's worked in some of the most rural of agricultural communities like Lamar, Colorado, the weird and wonderful mountain town of Taos, New Mexico, major metro Dallas, Texas, and has finally found the best of it all right here in Fort Worth.
"It's been a ride getting here, but I think I've finally found my home." 
Contact Elle to host your next event and catch her every weekday 6am to 10am with Tony on 95.9 The Ranch. 
You can reach Elle directly at..
 Facebook: @ElleWho
Twitter: @Elle.Who