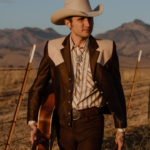 In our latest Ranch Music Meeting, Ranch fans picked 6 new songs for us to add to the playlist.  They were:
Jesse Daniel – Rollin' On
Hill Country – Dixie Darlin'
Deryl Dodd – Let Me Hold You Tonight
Judson Cole – Crash And Burn
Gabe Lee – Babylon
Ashley McBryde – Velvet Red
Congrats to Austin's Jesse Daniel as his song was the highest rated song of the week!  Keep watching our website and social media for the next Ranch Music Meeting and help us program what songs play on the station.