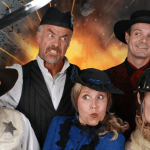 Mein Shaft, the thrilling new Murder Mystery Dinner show at Billy Bob's Texas starts Saturday, July 6th and runs through August 24th! This incredible show also includes a lavish dinner created by the talented Chef Chris at Billy Bob's Texas. Enjoy a night of hilarious entertainment and amazing food in the Fort Worth Stockyards this Summer!
The dinner menu features favorites like Smoked Adobo Pork Loin, Smoked Sliced Brisket, Blackened Catfish with Lemon Beurre Blanc and fantastic sides including Green Beans Caramelized Onions and Bacon, Hatch Chile Cheddar Mac-N-Cheese, Sweet Yeast Dinner Rolls, all finished off with Peach Cobbler and Vanilla Bean Ice-Cream.
Tickets are on sale now at https://billybobstexas.com/events/lone-star-murder-mystery-dinner-and-show
ABOUT LONESTAR MURDER MYSTERY:  "Where Historical Meets Hysterical!"®
The award winning actors who created the original Lone Star Murder Mysteries take guests on a light hearted trip back to the Wild West, where laughs fly like bullets and hilarity is the law of the land.
ABOUT MEIN SHAFT:
Grab your shovels and watch your step! A millionaire silver miner, John Schmidt, has been murdered and Marshal Jim Courtright must dig for clues to find out who got the shaft. Might Kit, his wife, be working the mine for her own benefit? Or maybe it was Katherine, the new gentlelady in town with an affinity for rich men and all things silver. Perhaps the eccentric Scotsman McPhiggis was aiming to get revenge. Or could it be the notorious gambler, Snake Eyes Roulette, has more than aces up his sleeves?  It's a safe bet that with a cast of suspects as dangerous as a mine car filled with black powder trouble is bound to explode!
Marshal Jim Courtright: Jim is a straight arrow trying his best to maintain law and order in a rowdy frontier town. An intelligent, kind, and articulate gentleman, he has never married. The one true love of his life left him years ago without saying goodbye, and he's never seen or heard from her since.
Snake Eyes Roulette: A professional gambler and cheater who got cheated on a gamble by John Schmidt, Snake Eyes has learned how to get what he wants over the years. He's waited a long time to cash in and believes the odds are finally in his favor.   
William Alastair McDougal McPhiggis: A Scotsman by way of Savannah, Georgia, McPhiggis has seen hard times and suffered many business failures in recent years. If a trip around the world cost a dollar, he couldn't get to the Oklahoma line. But he certainly isn't afraid to put up a good fight!
Kit Schmidt: The newly married wife of millionaire silver miner, John Schmidt, Kit may not be the brains behind the success of the mine…or the brains of anything for that matter…but she sure doesn't mind getting a little dirty to get what she wants. 
Katherine: Always on the move and recently settled in town, Katherine is a shrewd business woman in love or money. Sweet as sugar and hard as ice, she knows how to break your heart and take your fortune better than a room full of lawyers.