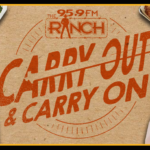 One thing's for certain during these uncertain times – you still need a good meal. Many of our local restaurants are doing their part to make sure you can still get one.  So we're doing our part to let you know what restaurants are offering to-go options on food, beer, margaritas and more. Welcome to "Carry Out & Carry On"  –  your guide to find hours, services and temporary carry out menus at restaurants throughout the West-O-Plex ready to serve you.
---
BROUGHT TO YOU BY
No logo found
---
Because we're all in this together, we encourage you to continue supporting your favorite local restaurants when they need you the most. Carry Out & Carry On Texas!


SEARCH BY CATEGORIES
ALL  –  American  –   BBQ  –  Breakfast  –  Chinese  –  Drinks  –   German  –  Groceries  –  Home Cooking  –  Italian  –  Seafood  –  Tex-Mex
---

Contact Norma Savage at 817-917-1285 or Norma@TheRanchRadio.com for information about how we can help you more ON AIR & ONLINE.