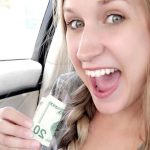 Who knew a $20 could be so meaningful?  Today's "Bright Side" story on the midday show with Malone was fantastic — probably because it came from one of YOU!  Thanks to Ranch Fan Myler Pickrel of Valley View for sharing this feel good story and fun picture!
If you missed what happened on the radio, just click below!
Myler, enjoy the passes to Lone Star Park, and thanks for being awesome and listening to the Ranch!
And Ranch fans, if someone did something nice for YOU that you want featured on the Bright Side, just shoot an email to malone@theranchradio.com.