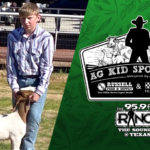 This week 95.9 The Ranch, Russell Feed & Supply and Purina's Ag Kid Spotlight shines on Mason Caraveau of Fort Worth, TX nominated by Steven Caraveau. Check out his story…
Reason For Nominating Mason Caraveau
Mason like many other AG kids takes great pride in taking care of his animals. He currently has 2 wether goats and a pig. He shows animals with Saginaw 4-H and is in his 5th year showing with them. He has also joined his high school ag mechanics program and has built a porch swing to show at most of the majors in Texas. This is through Brewer High FFA.
– Steven Caraveau
---
Do You Know An Ag Kid Worthy Of Nomination?
95.9 The Ranch is partnering with Russell Feed & Supply and Purina to support youth in agriculture! We want to highlight outstanding Ag Kids in our community each week and award them a $25 gift card to Russell Feed & Supply.  Plus in March, we'll draw from all the nominations and award a $1,000 scholarship to one lucky Ag Kid! It's our way of giving back to those kids working so hard to secure the future of agriculture.
To nominate someone you know, fill out the entry form below between now and March 20th.
Nominees must be between 13 and 18 years old and live within The Ranch listening area.
It's the Ag Kid Spotlight, presented by Russell Feed & Supply and Purina!
No purchase is necessary. For full contest rules and details, see the rules below the entry form. Void where prohibited.


Ag Kid Spotlight 2022 Official Contest / Prize Rules
Sponsor:
1.  KFWR-FM / 95.9 The Ranch (HEREINAFTER "The Ranch")
2. Russell Feed & Supply
3. Purina
Rules
1.  Void where prohibited or restricted by law. 
2.  AgKid must be between the ages of 13 – 18 to enter, qualify, and/or win.  Parent or Legal Guardian consent required.
3.  Must live within the terrestrial listening area of The Ranch to enter, qualify, and/or win.
4.  All prizes are non-transferable, non-assignable, and cannot be redeemed for cash or other consideration.
5.  No substitute prizes will be allowed except by The Ranch, who reserves the right, in connection only with the specific prize each is providing, to substitute prizes of equal value or nature.
6.  The prize winner is responsible for compliance with all federal, state and/or local laws and regulations that apply, including, without limitation, payment of applicable taxes. 
7.  All expenses not specifically provided for in the "Prize" section below are the responsibility of the prize winner and/or guest. 
8.  Entrants agree that any information provided will be used in accordance with The Ranch's Privacy Policy. Click Here
9.  Employees, agents and/or affiliates of The Ranch and /or Sponsors along with their respective immediate families and/or household members, are not eligible to enter the contest.  Immediate family includes, but is not necessarily limited to, spouses, parents, children, siblings, grandchildren, and grandparents.
10. The Ranch has sole discretion to render ineligible or disqualify any entrant or qualifier and to proceed with the contest as it determines appropriate.  
11. If no person, entrant, or qualifier meets the contest criteria, the prize will go unawarded. 
12. The Ranch is not responsible for losses, injuries, death or any other liability resulting participation in this contest.
13. The Ranch is not responsible for entries not received due to technical issues in the entry or selection process, including, but not limited to, phone or internet service outages, computer or phone difficulties, and delays.  Proof of submission is not proof of receipt by the website administrator for online entries.  Qualifiers must provide all requested information when requested. 
14. No Sponsor and/or any affiliate of The Ranch, Russell Feed & Supply and Purina, or individual representing or associated with The Ranch, Russell Feed & Supply and Purina  or one of their respective affiliates has any liability for any injury, death, or damage to either persons or property by reason of entering, qualifying, winning, and/or participating in the contest and/or the use of any prize in the contest. 
15. The Ranch reserves the right to change, update, or amend any rules without prior written notice.
16. By participating, all entrants, qualifiers, winners, and winners' guests give The Ranch, all Sponsors and all their affiliates unrestricted rights to collect and use any photos, video, recordings, and/or information collected (except when do so would conflict with The Ranch's Privacy Policy) for any purpose in connection with the contest without compensation.
17. By participating in the contest and/or accepting any prize, all entrants, qualifiers, winners, and winners' guests are agreeing to these Official Prize/Contest Rules and agree to, as allowed by law, release The Ranch, the Sponsors and all their affiliates and/or representatives and/or agents from all liability in connection with the contest.
Grand Prize
$1,000 Scholarship
How to Enter & Qualify
No purchase necessary.  Qualifying begins January 17, 2022 and ends March 20,2022.  Text "Kid" to 817-877-1959 for a link to the entry form.  Completely fill out mandatory entry fields to be eligible.  Limit 1 entry during the contest dates.   Each Wednesday during the qualifying period, one entry will be selected.  That entry will be the weeks "Ag Kid Of The Week" and will be highlighted on The Ranch and will receive an electronic $25 gift card to Russell Feed & Supply.  That person will be contacted by a representative from The Ranch.  That entry will also go into the Grand Prize Drawing.
How to Win
On March 21, 2022, one entry will be chosen at random for all qualified entries.  That person will be contacted by a representative from The Ranch.  If that person meets all the eligibility requirements as outlined in these rules, they will win the grand prize.  The prize will be awarded at the Weatherford Russell Feed & Supply location at an agreed upon date and time.