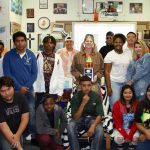 Teachers make a big impact on the lives of the young people within our community. That's why 95.9 the Ranch and Van Griffith Kia have teamed up to salute our local teachers by selecting a teacher of the week to recognize weekly.
This week's teacher of the Week goes to Ms. Jamie Cox at Fort Worth's Polytechnic High School.  Ms. Cox wasn't only nominated once, or twice, she was nominated 18 times by 18 different people.  Read what her fellow students and faculty had to say about her and its easy to see why so many people wanted to honor her!
"She loves the environment and regularly picks up trash at the park and during school with the students so they get the habit to do it as well and she helps us with our resume and interview practice as well and helps the students as much as she can do they can succeed and helps them through tough times."
"The fact that she is just an amazing woman and a FANTASTIC!! Teacher makes it special. I don't even have the right words to describe how caring she is for all of her students. She puts everyone's needs first than her. She is just WONDERFULLY AMAZING!"
"Ms. cox is always making sure that we're on what we need to be on to be successful. Not only does she care about the students and how we grow as people."
"Cox is just an amazing teacher and individual. Not only does she teaches she makes sure that we learn all the material that needs to be learned. She truly cares about her students and her school as a whole she makes sure that we will be prepared for the real life, teaching us skills that will actually use later in life. Not only is she a teacher but she is a mother figure and she is a true blessing to have her here at school I am thankful for everything she's done for me and my classmates. She's very relatable to the students and is a very important figure here. She's not only an awesome teacher she's an awesome individual!!"
"She's always trying to help students no matter where she is. She can email us a detailed explanation during her weekends, anywhere."
"What makes my teacher special would be that she is always putting her students first and always being there for us. She is an amazing person and an amazing teacher. Yayy ms.cox!!"
"She actually cares about her students and she gets what they need, even if she has to jump through some hoops to get it. Lastly, she gets us prepared for the new world."
"Mrs. Cox is a great teacher always willing to help her students. Not to mention she organizes volunteer work in the nearby community, sponsors several after school clubs and helps her students get their resumes ready, which helped me get a job. Best teacher ever!"
"What make Jamie Cox a wonderful teacher is she actually tries to help us and she actually cares how we are doing in other classes and get class she also pushes us to go to college and gives us ideas on how we can still make it to college and graduate even if we think we can't."
"She takes the time out of her day to ask how her students are doing and she provides a safe environment for students like myself. She also provides students with emergency supplies. She also lets her students eat in her classroom with her if they don't like going down to the cafeteria. She's an amazing teacher overall. She's taught me so much from how to make a résumé to learning how to plant pumpkins and almost every vegetable to teaching me how to give back to my community by picking up trash around the school and parks."
"She is very dedicated to her job. She does an amazing job at teaching. She loves all her students she tries her best to help every student out. She's the best teacher to go to when i have a problem she always has the best advice and she love the environment and cares very much about animals."
"She helps me learn the experience I needed to become a successful person. For example, she helps us get our certificates on Microsoft, PowerPoint, Excel. She never gave up on us because she knew that we needed this certificate so we can get a better job or get high pay. Without Ms.cox I wouldn't have my certificate and get the job I always wanted to become a business person. This is why Ms.cox is a very special person to every who has been in her class and to me too."
"She is amazing at what she does. She cares for all her students and is always doing her best to make sure we all have a good education."
"What's special about Ms. Cox is that unlike any other teacher she doesn't just give us the material that the school's curriculum says to do she goes beyond that and helps gain more knowledge of the life outside of school. Because us high schoolers have it easy and she goes out of her way and dedicates all the hours of the day for us and I admire that so much. She makes sure all of us have all the things we need to achieve and much more."
"She is always supportive, she always makes sure I'm on right track, and she always motivates me to come to school every single day."
"I would like to nominate a co-worker, Ms. Jamie Cox, for your "teacher of the week". In our eyes at our school, she isn't the "teacher of the week" she is the "wonder woman" of the week. We wonder what she is going to do next to help our students be successful. She teaches Microsoft Office at a level the students take the certification exam to become certified to make them more employable in the workforce. She had such success last year, the Mayor of Fort Worth came for a cookout and to present the students with t-shirts and certificates (that Ms. Cox purchased). She is the Environmental Club Sponsor and has over 300 students participate in the TRWD, Trash Bash, Fort Worth Neighborhood Litter Stomp, and Cowtown Clean-Up to clean the Polytechnic neighborhood each school year. She also oversees the school garden and teaches students about "urban gardens". She takes students to feed the homeless and go hiking. She believes education isn't just in the classroom, that the students need to be submerged in the community and have opportunities outside of the classroom to make them a better person. Her room is full of students before school, during lunch, and after school. She will not turn a student away she gives them her personal time and attention. The accounting teacher at our school has been out sick for several weeks. When Ms. Cox found out the teacher wasn't sending any work for the students, she took it upon herself to develop lessons for the students. She is now overseeing 13 classes — 7 of her Microsoft and 6 accounting. She is splitting her time between classes so all students get instructions in their subject. She cares about the development of her students in and out of the classroom. As you can see, she not only cares about her students but students in another teacher's classroom. She believes in building a relationship of trust and well-being with her students. She is known as "the teacher with everything a student needs" – snacks, bottled water, school supplies, sewing kit, safety pins, toothbrush/toothpaste/floss, hygiene items, hair supplies…etc. She wants them to come to school to learn the subject matter and about life. She doesn't want them distracted because they have the "personal" items or school supplies to prep them for school. She not only cares about the students. She works with the faculty to build relationships. She finds time to host cook-outs at her house for teachers once a month and host tailgates for school football games. Even through trials and tribulations in her personal life the past year, she never let it interfere with her job and giving back to others. As you can see, she is our "Wonder Woman" at Polytechnic High School."
"Her personality and how she prepares us for the future also how she is always there when we need her ."
"Mrs. Cox is a great teacher always willing to help her students. Not to mention she organizes volunteer work in the nearby community, sponsors several after school clubs and helps her students get their resumes ready, which helped me get a job. Best teacher ever!"
*Note that the day we visited Ms. Cox was dress like a tourist day at Polytechnic High School, you cant see it in the picture but Ms. Cox is rocking an awesome fanny pack!
If you know a fantastic teacher that you'd like to nominate fill out the form below and hit submit. We'll select one winner each week and the Ranch promo crew will show up to surprise them with a prize pack including a $100 Gift Card to Daireds Salon Spa Pangea, $50 Visa Gift Card, an oil change from Van Griffith Kia, and more! Tune in to Justin and Jeremy Tuesday mornings at 7:10am for the announcement of the weekly winner right here on the Sound of Texas 95.9 the Ranch.
Share & Enjoy