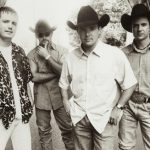 It's hard to believe that it was twenty-five years ago when four guys from Stillwater, Oklahoma decided to form the Great Divide, their own label, publishing and operating company, and begin recording their own special brand of Red Dirt music. Two independent releases, Going for Broke and Break in the Storm, followed before the group was signed to a major label deal by Atlantic Records who quickly re-released Break in the Storm featuring the nation-wide hit "Pour Me a Vacation" and within a year put out the band's third studio album Revolutions.
After a ten year hiatus, The Great Divide reunited in 2012 and have been touring selectively since. To mark their 25th anniversary of making music the band plans to release some new tunes, a vinyl record and a new tour that includes a main stage performance at Mile 0 Fest in Key West next February.
A few of the other artists on the Mile 0 Fest bill include Turnpike Troubadours, Pat Green, Wade Bowen, Shooter Jennings, Charlie Robison, William Clark Green and a whole lot more. In total, over 30 of the biggest names on the scene will be at Mile 0 Fest next year.
Whether you're taking in one of the big shows at the brand new Truman Waterfront Park Amphitheatre, stopping by one of the theatres or bars off Duval for a stripped down acoustic set from your favorite band leader, playing in one of the charity golf outings, or competing in the fishing derby, you'll have a blast at Mile 0 Fest in Key West. Get your tickets now before it's too late at www.mile0fest.com or by calling the box office at (877) 412-7658. For more info email info@mile0fest.com.
Share & Enjoy