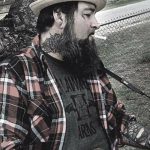 I stumbled across Shane's music when he sent a DM to The Ranch's Facebook page.  I was hanging around the house winding down, saw the message, checked out the tunes and thought to myself "This guy has got something going here!"  Shortly after that I debuted his single Tear Gas on The Sunday Send Off along with having him come in studio to chat and play some tunes.
Shane was born and raised in Glendale, AZ and has been playing music for 28 years.  He accepted a position with the railroad in 2011 relocating him and the family to Granbury, TX.  Shane Terrell & the Stumblers recently competed in Ranch Factor 2017.  They were eliminated but several reputable names such as Koe Wetzel, Kody West and Six Market Blvd have been knocked Ranch Factor in the past.
Along with being a family man, working the day job and gigging; Shane's also going on 16 years as a tattoo artist.  Don't let all the tattoos and piercings fool you though, he's is one of the nicest guys you'll meet and will have you laughing for hours!  I'm actually going to get some ink from him soon.  Buy the music, catch a show and be sure to visit with him after.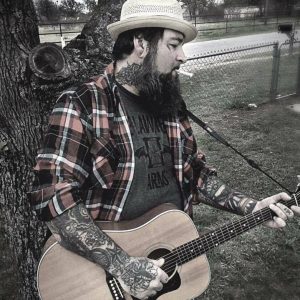 [Facebook – Shane Terrell & the Stumblers]
Shane Terrell & the Stumblers – Your Ocean Floor
Share & Enjoy