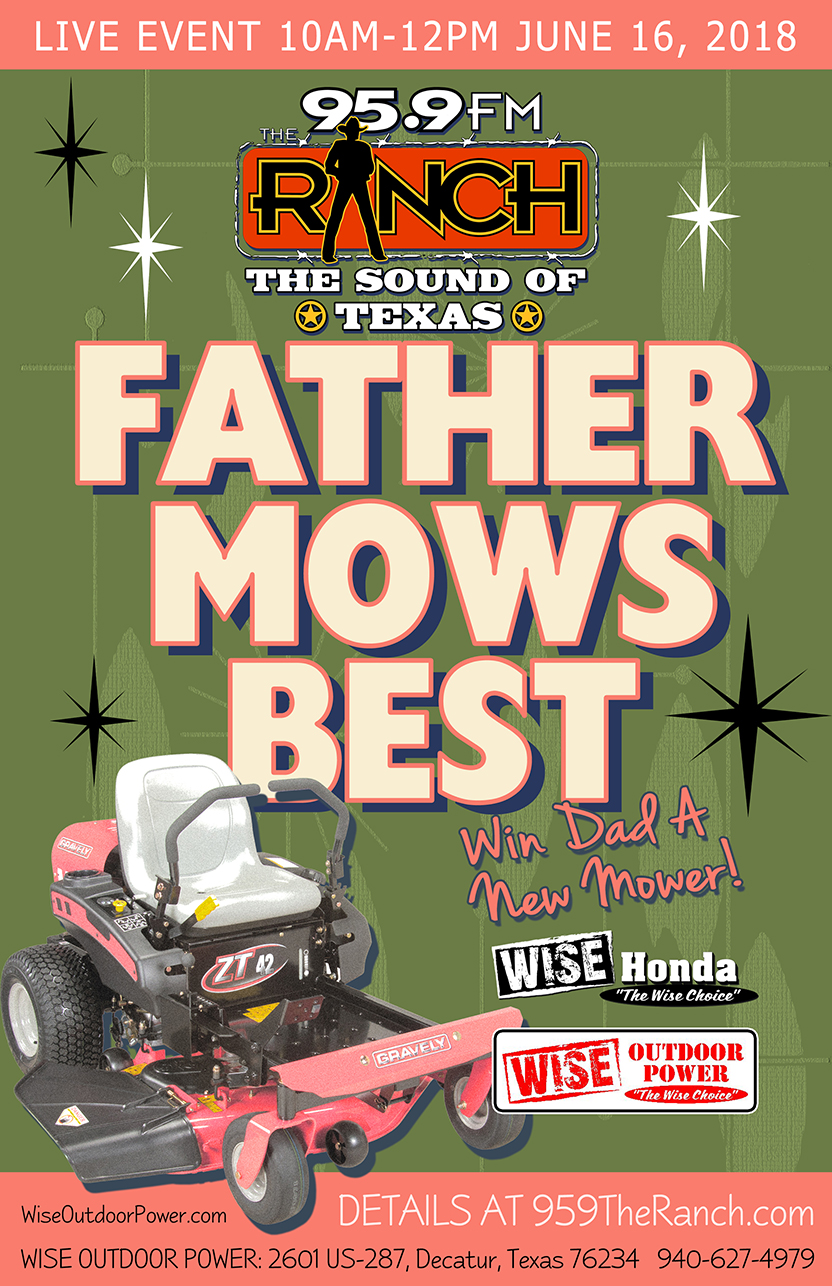 Forget the tie he'll never where, we're giving you the chance to hook dad up in style with a brand new riding lawn mower!  Qualify each day by visiting the Ranch's Facebook page and liking the "Dad Meme" of the day, and don't forget to share it with your friends!  We'll pick a winner each day and qualify them instantly!  
You can also visit Wise Outdoor Power's Fcaebook page for additional qualifying opportunities, or show up at the Ranch remote on Saturday, June 16th for last chance qualifying. 
Mark Saturday, June 16 on your calendar, starting at 10am we'll fill up a riding lawn mower with gas and let all the qualifiers have a spin…if it runs out of gas with you on it, load it up, it's yours!"


95.9 The Ranch Fathers Day Promotion 2018 Official Contest/Prize Rules
Sponsors:
1. KFWR-FM / 95.9 The Ranch (hereinafter "the Ranch")
2.  Wise Outdoor Power
Rules
1. Void where prohibited or restricted by law.
2. Must be 21 years of age or older to enter.
3. All prizes are non-transferable or assignable and cannot be redeemed for cash or other consideration.
4. No substitute prizes will be allowed except by the individual Sponsor(s), who reserve the right, in connection only with the specific prize each is providing, to substitute prizes of equal value or nature.
5. The prize winner is responsible for compliance with all federal, state and/or local laws and regulations that apply, including, without limitation, payment of applicable taxes.
6. All expenses not specifically provided are the responsibility of the prize winner.
7. Entrants understand any information provided will be used in accordance with the Station's Privacy Policy, found at www.959theranch.com.
8. Employees, agents or affiliates of the Ranch, LKCM Radio Group LP, or Sponsors, along with their immediate family or household members, are not eligible for participation.  Immediate family includes, but is not necessarily limited to, spouses, parents, children, siblings, grandchildren, and grandparents.
9. The Ranch has sole discretion to render ineligible or disqualify any entrant or qualifier and to proceed with the contest as it determines appropriate.
10.In the event that no person, entrant, or qualifier meets the contest criteria, the prize will either not be awarded or awarded in a manner that the Ranch deems appropriate.  No substitute prize will be provided.
11.The Ranch is not responsible for entries not received due to technical issues in the entry or selection process.
12. No Sponsor, affiliate of a Sponsor, or individual representing or associated with a Sponsor or affiliate has any liability for any injury, death, or damage to either persons or property by reason of entering or participating in the contest and/or the use of any prize in the contest.
13. The Ranch reserves the right to change, update, or amend the rules without prior written notice.
14. By participating, all Entrants give the Ranch, all Sponsors, and all of their affiliates unrestricted rights to collect and use any photos, video, recordings, and/or information collected (except when do so would conflict with the Ranch's Privacy Policy) for any purpose in connection with the contest without compensation.
15. By participating in the contest, all entrants are agreeing to these Official Prize/Contest Rules and agree to, as allowed by law, release the Ranch, the Sponsors, and all of their affiliates and/or representatives and/or agents from all liability in connection with the contest.
Prize
Gravely ZT XL 42-21.5hp Kawasaki FR651 V-Twin, w/42″ Farbricated Deck, ZT 2800 Transaxle.  (Retail Value $4,575)
How to Enter and Qualify
Three [3] means of qualifying: 1) On-line qualifying thru the Ranch Facebook page, like the daily "Dad Meme" between the dates of 6/4/18 – 6/15/18. One person will be selected each day as a qualifier. 2) Visit Wise Outdoor Power's Facebook page and share the designated.  3) Enter your name and information at the beginning of the remote to be held 6/16/16 at 10am.  All qualifiers must meet the criteria as listed above.
How to Win
On Saturday, June 16, 2018, from approximately 10am – 12pm, the Ranch will conduct a remote broadcast at Wise Outdoor Power (2601 South Hwy 287 in Decatur).  At that event a course will be laid out and a mower will be provided that has an undisclosed amount of gas.  The qualifiers will be randomly assigned a number between 1 – 20.  The qualifiers will take turns completing 1 lap around the course in the order there assigned.  The contestant who is on the mower when it runs out of gas wins the prize.
·   Qualifiers will take turns in the order determined by the random drawing
·   Qualifiers must make 1 complete lap around the course
·   Qualifiers must complete the lap in a timely manner, traveling at a safe speed while not deviating from the course
·    In the event that the mower runs out of gas during a contestant switch, the contestant who is about to start their lap will be deemed the winner
Share & Enjoy