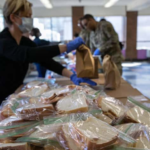 As part of our program in the morning, we share "The Good News" coming from these times. Folks unselfishly doing things for others & expecting nothing in return. As much as the end result of these stories are the "good news", so is the example of those stepping out to help.
Customer Leaves Entire $1,200 Stimulus Check as Generous Tip for Family-Owned Restaurant
Musician Uses Truck Bed to Play Drive-By Concerts for Friends in Quarantine – and the Video is Incredibly Heartwarming
With so much ugly in the world in the physical context and especially in the social network context, Its great see so many give of themselves unselfishly. When you have the means and the opportunity to help others, you do it because it's your hearts desire. If you ever do something to help someone personally or professionally & expect to be paid back, then get your feelings hurt when it doesn't happen, you've done it for wrong reasons in the first place.
Sing-Alongs, Mask Donations And Food Deliveries: Acts Of Kindness During The Coronavirus Crisis
With the right frame of mind, some perspective & the best of intentions, I've experienced that things tend work themselves out. Take solace in the fact that you MAY have helped make something better for someone else. Don't go pandering for pats on the back. It's unbecoming.
If the phrase "You owe me" ever comes out of my mouth, please punch me in that same mouth. Have a great day everyone. Go out and surprise someone today.  Thanks to JAG Metals for reminding us to spread some cheer everyday.
As always, Thanks for listening.
See Ya Down The Road…
J. Frazell