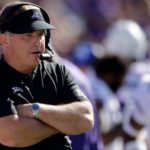 The NCAA approved a football preseason model for teams that will allow everyone to start their seasons on time.  TCU will open it's season on September 5th at Cal.
TCU athletic director Jeremiah Donati told the Star-Telegram this week, "We've told [our players], 'Look, the healthiest teams are going to have the chance to win the most games this year.' It's critical we do as much as we can to stay as healthy as possible."
Outside of practice, TCU is prepping it's squad for a football season in the midst of a world wide pandemic.
One player per dorm room
Each player has been given sanitation packets,
Best social distancing practices and safety measures.
One copy of "Take A Step Back" from  head coach Gary Patterson.
The last one I threw in based on personal preference.   Coach Patterson spent part of his quarantine honing is songwriting and guitar playing chops.  I'll be damned if he ain't pretty darn good at it too.
Grab your own copy of "Take A Step Back" via Itunes or Spotify. Good Work Coach and Good Luck this season!