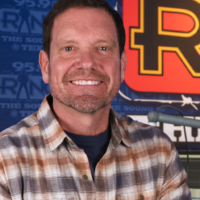 Tony Russell
MONDAY to FRIDAY -- 06:00 AM - 10:00 AM
Tony left his private psychology practice in 1998 to begin a full-time career in radio. Yes, after his parents paid for him to get a bachelor's degree from West Virginia State University and a master's degree from Marshall University he chose to become a DJ. His parents were THRILLED as he headed to Wichita Falls, Texas! Tony is also an ordained minister, and actually attended a Baptist seminary until discovering he would not be allowed to drink beer. He quickly became a Methodist. He once worked weekends here on The Ranch in 2006 but has worked for top rated morning shows in many amazing cities like Dallas, Miami, Seattle, and Portland. He now makes his home in downtown Fort Worth where you might find him running on the Trinity River trail or walking aimlessly around Sundance Square. He has three grown children who he hopes are saving for his retirement.
Contact Tony to host your next event and catch him every weekday 6am to 10am with Elle on 95.9 The Ranch. 
You can reach Tony Russell at..