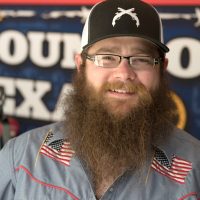 Ben Ryan
MONDAY to FRIDAY -- 07:00 PM - 12:00 AM
Ben Ryan was born in Southern Arkansas and knew from a young age that he wanted to be on the radio.  After moving to Texas and graduating  from high school, he worked full time at an auto parts store.  In 2008 he landed a part time promotions position at 95.9 The Ranch.  After about six months he moved over to the programming side, producing such shows as Texas Red Dirt Roads, Texas Music Interactive and The Scott Copeland Old Time Radio Hour.
In 2010 Ben accepted the Music Director positions at an all Texas/Red Dirt Station in San Angelo, TX.  After about three years in San Angelo Ben departed to take on the role of Tour Manager/Merch Guy for Phil Hamilton.  He finally made it back home to 95.9 The Ranch in March of 2014 where he took the role of Production Assistant, Night Personality 7-Midnight, and Associate Producer for Texas Red Dirt Roads.
Ben enjoys taking his dog Wylie for walks, catching live music of all genres, college football, hittin' up the gun range, and beard & mustache competitions.  A circus clown once stole his backpack… you'll have to ask him about that story.
You can reach Ben at..

Program Director for "Large Market Station of the Year in 2013" 103.1 Kickin Country KKCN San Angelo, TX

Malone proudly endorses McCormick Law Firm and Mike Brown Auto Group on the Ranch.  For information about Malone endorsing your business, please contact Norma at 817.332.0959 or Norma@TheRanchRadio.com.