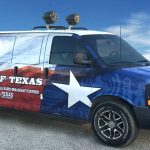 95.9 The Ranch is loading up the van and hitting the road to see you this week in Willow Park, Fort Worth, and Saint Jo!
TUESDAY, MAY 21 – Railhead Willow Park
Join The Ranch starting at 5pm Tuesday evenings this Spring and Summer for the Songwriter Showcase! 95.9 The Ranch knows that we have ALOT of talent here in Fort Worth, and we want to give you a chance to prove yourself! If you are an aspiring musician we invite you to register for the Ranch's Songwriter Showcase on www.959theranch.com, starting April 2nd and every Tuesday till June 25th!
Address: 120 S Ranch House Rd, Willow Park, TX 76008
WEDNESDAY, May 22 – Lola's Trailer Park
95.9 The Ranch's FREE Music Series Returns for its 17th year at Lola's Trailer Park, our new home for Texas Music! May 22th , Grady Spencer & the Work, and Austin Allsup take the stage, and as always, its FREE, 21 and up!
Address: 2735 W 5th St. Fort Worth, TX 76107
FRIDAY, MAY 24 – Billy Bob's Texas
95.9 The Ranch presents Shane Smith & the Saints at Billy Bob's Texas Friday, May 24th! Show kicks off at 10:30pm, but get there early and win prizes from the ranch starting at 9pm!
Address: 2520 Rodeo Plaza, Fort Worth, TX 76164
SATURDAY, MAY 25 – Red River Station BBQ
Join 95.9 The Ranch this Saturday at Red River Station BBQ in Saint Jo, Texas as well help them celebrate their one year anniversary with great music all day by The Bois D'arcs, Summer Dean, and Two Tons of Steel! Ben Ryan will be broadcasting live from 4 to 8, so plan on spending the day with us!
Address: 221 E Howell St. Saint Jo, TX 76265
Share & Enjoy