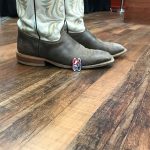 When out at the Fort Worth Stock Show & Rodeo make sure to visit the Ranch Big Red Barn inside the Amon G Carter Exhibit Hall, then look down at the floor.  That wood floor was installed by Next Day Floors DFW.   Interesting story about Next Day Floors DFW, here at the Ranch we literally tested their name and they passed.  Two days before the opening day of the Fort Worth Stock Show & Rodeo our floor partner had to cancel, which left us scrambling.  Somebody came across Next Day Floors DFW online and said "That's exactly what we need, a floor tomorrow".  A phone call and visit later a crew was on the road and less then 24 hours after that initial phone call, a floor was laid.
If your in the market for hardwood, laminate, vinyl, carpet, tile or bamboo flooring give Josh and his staff a call at 817-386-2770.  Like the Ranch, Next Day Floors is locally owned and operated.

ABOUT NEXT DAY FLOORS DFW
Next Day Floors DFW serves the Greater Dallas Fort Worth metroplex with quality floor coverings and installation. Today our association with the nation's largest floor covering retailers allows us to bring you better prices, warranties, and service than ever before. Our product lines include the "tried & true" and the more unique floors available today. We not only offer a variety of flooring products at an unbeatable price, but the installation also. With our selection and service, we will have what you need.
Next Day Floors DFW is a family owned and operated business and has been around since August 2011. We are big enough to handle any and all residential jobs and some commercial jobs, yet still small enough to give each and every customer the care and attention they need every step of the way. We will always come to you for a free in home no pressure consultation. We encourage anyone looking for flooring work to do your research online and read reviews about multiple flooring companies. We take pride in the level of customer satisfaction we strive for so hard every day. When you are getting flooring work done it can become a little over whelming. Let us handle the pressure.
Joshua Jackson founded this company back in August 2011 after working in the flooring industry for years.
"Since we've started. we've not only gained a wealth of knowledge about flooring, but we've also built many lasting relationships with the customers we've served. We'd like to think that's because we offer something more than just quality flooring products." – Joshua Jackson, Founder.
At Next Day Floors DFW, it begins with our showroom, where you're always greeted by our staff of flooring experts who are knowledgeable in all aspects of the products we sell. Working as a team, our staff takes the time to get to know you so that we can help you choose flooring that best matches your decorating style with your performance needs. We'll offer you samples to take home, as well as a free, in-home consultation, where we'll measure your space, assess the site, and provide you with a true estimate of all of the costs involved in your flooring installation.
Share & Enjoy