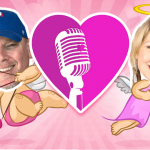 Looking for love and a free meal at Reata???  Justin and Malone want to hook you up with BOTH!  You've tried everything else, so why not put your love life in the (capable?) hands of Justin and Malone in the Morning on the all new "Love on the Ranch"?  Hey, at the very least, you know your date listens to the Ranch!  And really… what else do you need if you both love Texas music?
Just complete the form below to help us find you a date, and you might be picked to be on the show.  We'll get you on the phone with Justin, Malone and a potential date or two, and YOU get to decide whether to go or not after you talk to your prospect(s).  You are under no obligation to go on the date, but there is a free meal at Reata involved if you go.  We're just saying.
You don't HAVE to fill out all the blanks below, so don't get scared away.  But the more info you give us, the better the chance that we will find you the love of your life and we will all live happily ever after.

Share & Enjoy