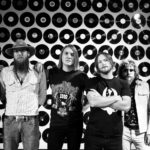 Fans of Whiskey Myers and folks in general are throwing up a prayer for healing and a steady recovery after John Jeffers (guitar / vocals) was seriously injured in an ATV accident recently.
** From his wife and the Official Whiskey Myers Fan Page **
"Asking every single member to please put John Jeffers in your prayers! He was in an accident and pretty banged up. The following is copied from his wife's page.
Thank god he is ok!!!!
Just wanted to thank everyone for the prayers + update everyone on John Jeffers — we were released yesterday morning from Medical City Plano + we are at back home recovering!
He had an ATV accident Sunday. He has a skull fracture + total hearing loss in one ear, but we were reassured by the neurosurgeon + ENT at Medical City that both will heal + he will hear again. He is pretty banged up, with lots of stitches to his head + knee. They believe a bolt went through his skull + barely missed his carotid artery. He is at high risk of infection due the location of his fracture so specific prayers that he stays infection free.
We are so very thankful that he is alive + still here with us! Special thanks to my mama and daddy for waiting outside the ER for hours + following the ambulance to Dallas in the middle of the night Continued prayers that he heals up with no infection + his hearing comes back over the next few weeks before Baby Jag Wilder makes his appearance"