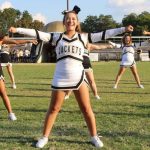 95.9 The Ranch is heading to Cleburne this week to shine those Friday Night Lights on the Cleburne Yellowjackets as they take on Chisolm Trail on Friday, September 6th!  Get ready Cleburne, the Ranch Rally Team is heading to your school  for the Pep Rally and Football game to see your Ranch spirit!
Make sure to join us at the Chicken Express in Cleburne (828 N Main St, Cleburne, TX) 5p-6p for your pre-game meal and pick up your Friday Night Lights T-Shirt while enjoying that sweet Chicken Express Ice Tea!
Good Luck and we just may be seeing you again in the Spring with Pat Green and a $1,000 check!
Made Possible by our sponsors:
Share & Enjoy