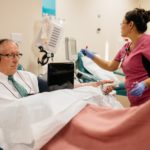 Our concept of heroes has changed this year. Our neighbors in the medical field, first responders, retail workers and more are the ones making a difference in our communities. Let's give back, Mike Brown Auto Group presents The Ranch Thank You Tour!

Join us over the next 3 weeks as we post up at Carter BloodCare across the West-o-Plex!  Make the lifesaving donation of Blood and help our medical workers continue the fight!  For donating you'll pick up a 95.9 The Ranch and other goodies!
THURSDAY, NOV 19
11a-1p
Carter BloodCare (7260 Blue Mound Rd #140, Fort Worth, TX 76131)
TUESDAY, NOV 24
11a-1p
Carter BloodCare (4995 S Hulen St, Fort Worth, TX 76132)
TUESDAY, DEC 1
11a-1p
Carter BloodCare (116 Interstate 20 Frontage Rd #151, Weatherford, TX 76087)

Carter BloodCare is an independent, community blood center providing transfusion resources to more than 180 medical facilities in 50-plus counties of north, central and east Texas. The non-profit 501(c)(3) organization is one of the largest blood programs in Texas, delivering more than 450,000 blood products annually to meet hospitals' requirements for their patients. Services include collection, processing, specialized laboratory testing, storage and distribution of blood and blood products.
BROUGHT TO YOU BY