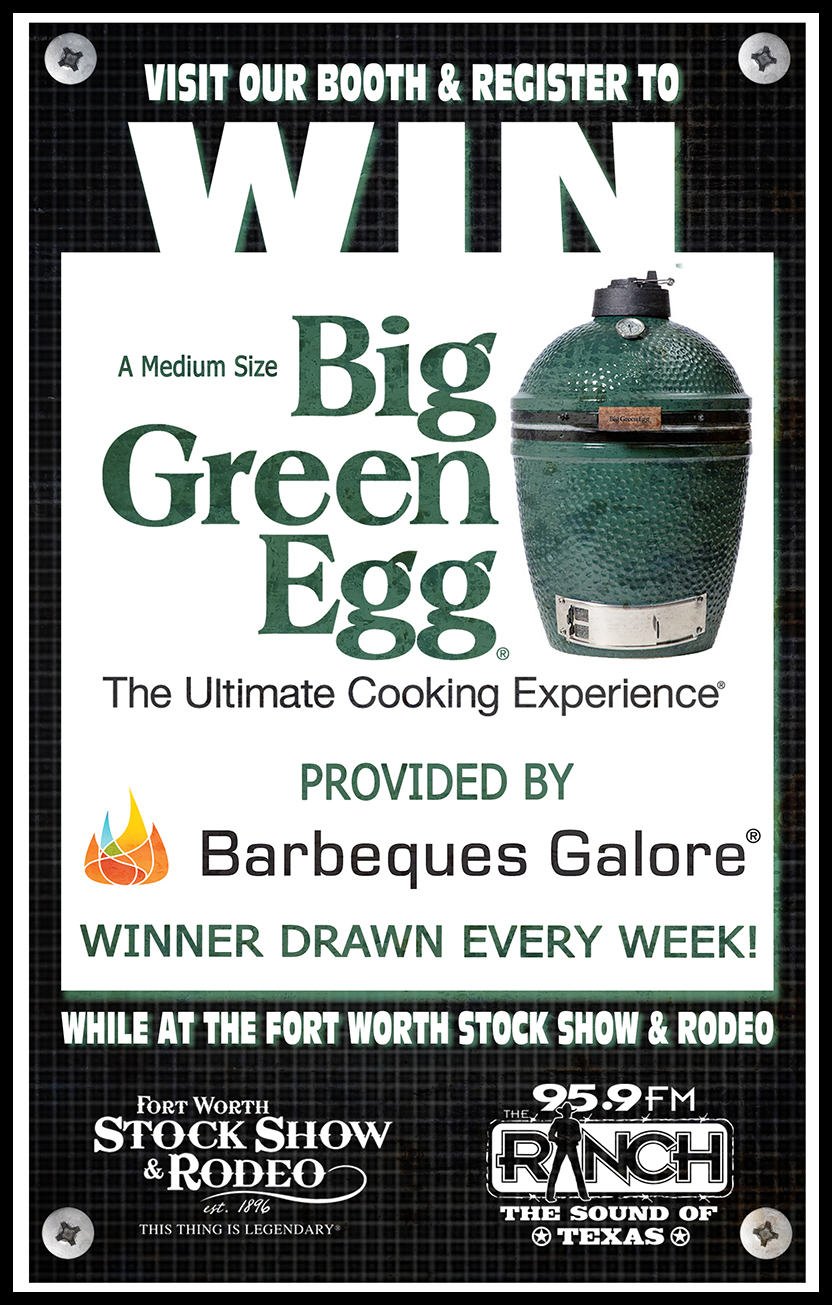 Visit the 95.9 The Ranch Big Red Barn inside the Amon G Carter Exhibit Hall during the 2019 Fort Worth Stock Show & Rodeo!  Register to win a Big Green Egg, LIVE Broadcasts on Friday with Shayne Hollinger 3p-7p, pick up a 95.9 The Ranch goody bag with great offers inside, and visit with our partners for great deals and prizes!

95.9 The Ranch Fort Worth Stock Show & Rodeo 2019 Big Green Egg Official Contest/Prize Rules
Sponsors:
1.       KFWR/95.9 The Ranch (hereinafter "The Ranch")
2.       Barbeques Galore
Rules
1.       Void where prohibited or restricted by law.
2.       Must be 18 years of age or older to enter and/or win.
3.       All prizes are non-transferable, non-assignable, and cannot be redeemed for cash or other consideration.
4.       No substitute prizes will be allowed except by the individual Sponsor(s), who reserve the right, in connection only with the specific prize each is providing, to substitute prizes of equal value or nature.
5.       The prize winner is responsible for compliance with all federal, state and/or local laws and regulations that apply, including, without limitation, payment of applicable taxes.
6.       All expenses not specifically provided for in the "Prize" section below are the responsibility of the prize winner and/or guest.
7.       Entrants agree that any information provided will be used in accordance with The Ranch's Privacy Policy. [located at www.959theranch.com]
8.       Entrants agree to receive promotional messages from The Ranch and sponsor of this contest.
9.       Employees, agents and/or affiliates of The Ranch, LKCM Radio Group LP, and/or Sponsors, along with their immediate families and/or household members, are not eligible to enter the contest.  Immediate family includes, but is not necessarily limited to, spouses, parents, children, siblings, grandchildren, and grandparents.
10.   The Ranch has sole discretion to render ineligible or disqualify any entrant or qualifier and to proceed with the contest as it determines appropriate.
11.   In the event that no person, entrant, or qualifier meets the contest criteria, the prize will not be awarded.
12.   The Ranch is not responsible for entries not received due to technical issues in the entry or selection process.  Entrants must provide all requested information when requested.
13.    No Sponsor and/or affiliate of a Sponsor or individual representing or associated with a Sponsor or affiliate has any liability for any injury, death, or damage to either persons or property by reason of entering, winning, and/or participating in the contest and/or the use of any prize in the contest.
14.   The Ranch reserves the right to change, update, or amend any rules without prior written notice.
15.   By participating, all entrants, qualifiers, winners, and winners' guests give The Ranch, all Sponsors, and all of their affiliates unrestricted rights to collect and use any photos, video, recordings, and/or information collected (except when do so would conflict with the Ranch's Privacy Policy) for any purpose in connection with the contest without compensation.
16.   By participating in the contest and/or accepting any prize, all entrants, qualifiers, winners, and winners' guests are agreeing to these Official Prize/Contest Rules and agree to, as allowed by law, release the Ranch, the Sponsors, and all of their affiliates and/or representatives and/or agents from all liability in connection with the contest.
Prize
·         Big Green Egg – Medium (3 total)
How to Enter
No purchase necessary, must be 18 years of age or older to enter and win.  Enter at the Ranch booth inside the Amon G Carter Exhibit Hall at the Fort Worth Stock Show & Rodeo between the dates of 1/18/19 – 2/9/19.  Completely fill out the registration form with a member of the station staff.
How to Win
Three [3] winners total will be drawn, each receiving a voucher to claim a Big Green Egg – Medium from Barbeques Galore.  One [1] winner will be drawn during the Friday afternoon broadcasts on 1/25/19, 2/1/19 & 2/8/19 at approximately 5:30pm from all who had previously entered.
How to Redeem
Winners will be contacted by staff from the Ranch and have 30 days to pick up their voucher from The Ranch Fort Worth studios located at 115 West 3rd Street, Fort Worth, TX 76102.
Share & Enjoy