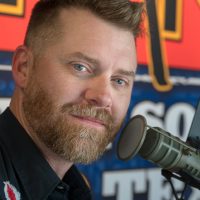 Shayne Hollinger
Monday, Tuesday, Wednesday, Thursday, Friday -- 03:00 PM - 07:00 PM
Getting a start in radio at the early age of 15 has afforded Shayne the ability to have a long career in radio and still have quite a ways to go. More than 25 years later, his passion for discovering and sharing independent and honest music has only grown to epic proportions.
Shayne finally was awarded what he felt was his calling and his "dream job", Music Director for the biggest radio station involved with his favorite kind of music, in April of 2014. It took years of struggle and scraping by, working his way through the ranks of small market radio stations that got him here, and that drive is what keeps him passionate.
That passion can be heard in the music that is played on 95.9 The Ranch, as well as during his afternoon drive show, weekdays 3-7 PM.
You can reach Shayne at..
Share & Enjoy