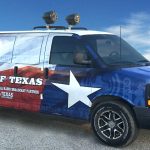 Join 95.9 The Ranch this week at the Railhead Smokehouse – Willow Park, The Yard, Downtown Fort Worth & Sutherland's
TUESDAY, APRIL 17 – Ranch Pitchin' Party
Join The Ranch Tuesday, April 10, at The Railhead Smokehouse for the 4th Annual Ranch Pitchin' Party! Registration begins at 5:30 pm on site at The Railhead in Willow Park and the bracket style tournament begins at 6pm. There are only so many slots available each week so make sure you arrive in plenty of time to get your name on the board. It's a $5.00 entry fee but you have a chance to win it all back plus some if you become the Pitchin' Party Champion. Weekly winners automatically move to the Championship Round in week 13 and the weekly runner up with return in week 13 for a "pitch out" to determine the final four slots in the bracket. Over $1000.00 in cash and prizes will be awarded to the 2018 Ranch Pitchin' Party Champion.
Address: 120 S Ranch House Rd, Willow Park, TX 76008
WEDNESDAY, APRIL 18 – Ranch Music Series
Your Wednesday Nights Just Got Better! The 95.9 The Ranch's FREE Music Series Returns for its 16th year from The Yard, the newest bar in Fort Worth's West 7th, for 2018! Enjoy live music every Wednesday night March 28 through August 29th, and as always, its FREE, 21 and up! Ben Ryan brings you the action live on air every Wednesday nights starting at 7PM.
Wednesday, April 18th
Opener – Randall King
Headliner – Deryl Dodd
Address: 3017 Morton St, Fort Worth, TX 76107
Main Street Fort Worth Arts Festival
A spring tradition, the Main Street Fort Worth Arts Festival, returns April 19 through the 22! Experience a magnificent mile of art, music and food from over two hundred exhibiting artists! Plus, enjoy 4 days of FREE entertainment! Delicious food, amazing performances and beautiful artwork come together in Downtown Fort Worth! Sponsored by Sundance Square, University of Texas at Arlington, Wells Fargo, Tarrant County College and Michelob Ultra. Stop by the 95.9 The Ranch Booth located at the corner of 8th Ave & Main Street to record your very own liner and register to win great prizes between 10am – 8pm every day!
The Main Street Fort Worth Arts Festival is more then just art! 95.9 The Ranch is proud to present
          Thursday, April 19 @ 8:30pm – Bonnie Bishop on the Sundance Square Stage
          Thursday, April 19 @ 8:30pm – Grady Spencer & the Work on the University of Texas Arlington Stage
          Friday, April 20 @ 9pm – Shane Smith & the Saints on the Sundance Square Stage
          Saturday, April 21 @ 9pm – Jamestown Revival on the Sundance Square Stage
Address: Downtown Fort Worth
SATURDAY, APRIL 21 – Sutherland's
Join 95.9 The Ranch for STIHL Days at Sutherlands in Mineral Wells 11am – 1pm on Saturday, April 21st! Take 10% off ALL STIHL products April 20th – 22nd! The STIHL rep will be on site Saturday to answer questions and give demonstrations on the full STIHL product line! Plus The Ranch will have great Ranch prizes!
Address: 198 Garrett Morris Pkwy, Mineral Wells, TX 76067
Share & Enjoy