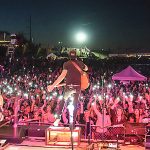 Join 95.9 The Ranch this week at the Railhead Smokehouse Willow Park, Sears, Brock, Ranch Bash, and National Hall.
TUESDAY, OCTOBER 17 – Ranch Factor @ Railhead Smokehouse Willow Park
Ranch Factor is down to the final week's and only 3 bands still remain. All 3 will take the stage and 1 will be eliminated, your vote counts so make sure to arrive early and cheer on your favorite. Competing – Sarah Hobbs, Tanner Fenoglio, Adrian Johnson. It all kicks off at 5:30pm with live music, cold drinks and BBQ on the Railhead Patio. After the competition, Randy Brown & Brandon Rhyder will keep the music going all night long!
Address: 120 S Ranch House Rd, Willow Park, TX 76008
FRIDAY, OCTOBER 20 – Friday Night Lights w/Brock High School
95.9 The Ranch's Friday Night Lights competition continues and its Brock High School's turn to shine in those lights! Tune in Friday morning at 7:30am as Justin & Jeremy visit with students, then the Ranch Rally Team is heading west to Brock, TX to cheer on the Brock Eagles as they take on Paradise High School!
Before the kick-off, join The Ranch team at Chicken Express (1711 Bethel Road, Weatherford, TX) from 5pm-6pm for our pre-game meal. We'll be handing out tea coupons and the Ranch Friday Night Lights shirts!
Celebrate the Grand Reopening of the Sears Hometown Store with America's Appliance Experts in Azle Friday, October 20th from 3pm – 5pm with 95.9 The Ranch! For two days only, Friday, October 20 and Saturday, October 21, celebrate Sears Days with our Lowest Prices of the Season on select items. You'll find great savings on select tools and lawn and garden equipment. Take up to 20% off appliances! Use your Sears card and get an extra 15% off Kenmore appliances over $499 OR 12 months special financing on appliance purchases over $499 OR free delivery on appliance purchases over $499! Save 50%-60% on all mattresses and foundations. Lease it, love it, own it! No credit required, and you can take your purchase home today. Ask your sales associate for details on how leasing can work for you!
Address: 155 Southeast Parkway, Azle, TX
FRIDAY, OCTOBER 20 – Roger Creager @ Billy Bob's Texas
Join 95.9 The ranch at the World's Largest Honky Tonk on Friday, October 20th for Roger Creager LIVE, presented by 95.9 The Ranch.  Roger Creager takes the stage at 10:30am but get there early to win great prizes from the Ranch starting at 9pm!
Address: 2520 Rodeo Plaza, Fort Worth, TX 76164
SATURDAY, OCTOBER 21 – Ranch Bash
THE RANCH'S 13TH ANNUAL TEXAS MUSIC FESTIVAL RETURNS TO FORT WORTH!
Every October, as one big Ranch family, we gather to celebrate our music, our pride and your favorite station! 95.9 The Ranch & our sister station 106.9 The Ranch present Ranch Bash 2017 featuring a full day of Texas / Red Dirt music from: Mike Ryan, Zane Williams, Koe Wetzel, Shane Smith & The Saints, Gary P Nunn, No Justice, Grady Spencer & The Work, John Baumann, Read Southall Band and Saints Eleven.. Be a part of the largest single day Texas Music festival in North Texas with two stages and 10 bands for continuous live entertainment, plus VIP areas, plenty of cold drinks, food trucks and much more. Get your tickets now and stay tuned for all the latest details!
SUNDAY, OCTOBER 22 – TXRDR @ National Hall
Join Justin Frazell and 95.9 The Ranch at National Hall for the Texas Red Dirt Roads radio show on Sunday, October 22nd from 3pm-6pm.
Address: 3316 Roberts Cut Off Rd., Fort Worth, TX 76114
Share & Enjoy