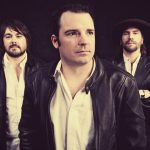 Ranch fans get the opportunity to select what gets played on the station with our weekly music listening feature.  This week Ranch fans voted to add these new song:
Reckless Kelly – Moment In The Sun.  The latest single from the band from Austin (via Stanley, Idaho) off of their "Sunset Motel" album is a true rocker!
Mike Ryan – The Rewrite.  The latest single off of the "Blink You'll Miss It" album is a funny twist on a love song that took a turn in the middle of writing it with a love interest who decided to leave before the song was finished.
Mike & The Moonpies – Beaches of Biloxi.  Getting national recognition from their new album "Steak Night At The Prairie Rose", an album that is as about as traditional country as you can get.  This is the album to dance to at your favorite Texas Honky Tonk.
Nathaniel Rateliff & The Night Sweats- You Worry Me.  Going outside of the Texas/Red Dirt sound with his uniquely Americana sound that resonates with Ranch listeners is the latest single from Nathaniel off of his upcoming "Tearing At The Seams" album that is due out in March. The song is currently sitting at #1 on the Americana singles chart.
Aaron Einhouse – Back Down To Earth.  The title track is the latest song from Austin, TX native Aaron Einhouse.
Jon Young – Rubbles And Relics.  The Stephenville, TX native is out with his new single that pushes the lines of Texas/Red Dirt and Americana music.  Jon is a unique artist in every sense of the word.
Share & Enjoy