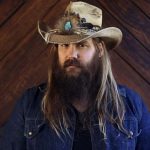 This week we have added two amazing new songs to our music library.
Chris Stapleton has taken over Country Music by storm.  His new album, "From A Room: Volume 2", will be released on December 1st.  The first song released off the upcoming album is a cover of Oklahoma singer-songwriter Kevin Welch's "Millionaire", a beautiful love song that instills the notion that Love is the most valuable asset on this planet.
Margo Price continues to get national exposure with her traditional country sound.  Part Loretta Lynn, part Joan Jett & The Blackhearts, Margo's "Don't Say It", comes off of her brand new album "All American Made".  The album has already reached #12 on the U.S. Country Album Charts.  Born in Illinois and now based in Tennessee, Margo Price is a force to be reckoned with in Country Music.
Share & Enjoy