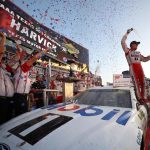 Kevin Harvick finally checked Texas Motor Speedway off his Monster Energy NASCAR Cup Series to-do list Sunday while checking into the Championship 4 Playoffs with a hustle-from-behind victory over Martin Truex Jr. in the AAA Texas 500.
Harvick, of Stewart-Haas Racing, ended a daunting 0-for-29 streak dating to 2001 in Cup around TMS' high-banked/1.5-mile oval when he completed a pass around Truex Jr. exiting the re-profiled Turn 1 and 2 complex on Lap 325 of the scheduled 334-lapper.
With the win, Harvick joined Playoff points leader Truex Jr. and Kyle Busch in the Championship 4 event set for Homestead-Miami Speedway on Nov. 19.
Busch, the 2015 series champion from Joe Gibbs Racing, clinched with a victory at the half-mile Martinsville Speedway last Sunday. Truex Jr.'s runner-up result in Fort Worth gave him 4,168 points and placed him 57-points ahead of the closest winless Playoff driver behind him, Brad Keselowski in fourth. The final open spot will be filled next Sunday on the one-mile Phoenix Raceway.
"I'm happy to finally get to Victory Lane here in Texas…damn it's good!" Harvick beamed after parking his No. 4 Mobil 1 Ford Fusion at the start/finish line, where he was greeted by a group of rowdy fans pressing against the frontstretch fence. "We've been qualifying well here and racing well ever since I've been at Stewart-Haas Racing and just never got it to work out to go to Victory Lane. Today we had to earn it.
"To be able to pass the No. 78 (of Truex Jr.) for the win is something that's huge for our confidence and team knowing we need to go to another 1.5-mile at Homestead to race for the championship. I'm really proud of everyone on our Mobil 1 Ford. This thing was a hot rod today. Great to check that one off, baby!"
Harvick and team co-owner Tony Stewart noted SHR went into this season after switching OEMs from Chevrolet to Ford. "We had to overcome a lot with that change," said Stewart, a retired three-time Cup champ. "But at the same time, everybody in the field had an aero change, aero-package-wise, too.
"What I saw tonight is something that I'm really encouraged about. It wasn't just the fact of winning this race, but it's just how it was won – how Kevin drove those last 20, 25 laps. I know Kevin and I can tell you watching his driving style, there's something those other three guys that are going to make it to Homestead to be worried about. I've seen this man when he gets locked-in like this, and he's strong right now."
Harvick's margin of victory was 1.580-seconds at an average speed of 143.234 mph. Harvick led five times for 38 laps on a day when 13 drivers took turns pacing the race.
Coincidentally, record race-time temperatures in the low-90s were July afternoon/brain-frying hot in the Dallas/Fort Worth Metroplex. Temperatures inside the cramped Cup cockpits were reported at 120 degrees.
Harvick didn't wilt as he began to reel Truex Jr. in following the day's eighth caution on Lap 284 for Kyle Larson's fiery crash into the Turn 2 wall. The resulting cleanup prompted NASCAR to red flag the event for 10 minutes, 29 seconds. The winning move went down on Lap 325 through the Turn 1 and 2 complex after Harvick did some on-the-fly homework.
"I saw the No. 42 at the beginning of the race really driving into Turn 1 really deep," said Harvick, whose previous best finish in Fort Worth was second in November 2014 and April 2015. "For me, I knew I needed to do something different in order to get past Martin. I tried to just start driving it in there and we kept going faster and faster. I picked up like two-tenths. I kept driving it in there and one lap I got close enough to get the air off the back of his car. I actually got to the outside and was able to pass him on the outside. That's a credit to the racetrack for getting it rubbered-up and all the things they have done to prep it."
To recap, TMS' entire racing surface and pit road were repaved during the offseason. In addition, Turns 1 and 2 were re-profiled from 24 degrees of banking down to 20 degrees. That area also was widened from 58-feet to 78-feet to promote more passing opportunities. Turns 3 and 4 have retained their traditional 24-degree banking.
Truex Jr., who led four times for a race-high 107 laps in his No. 78 Bass Pro Shops/Tracker Boats Toyota Camry, indicated Harvick's winning move was almost inevitable.
"I knew he was quicker," said Truex Jr., of Furniture Row Racing. "Once he got around the No. 11 (Denny Hamlin) I guess it was, he started coming really fast and that's all I had. Just struggled a little on the long run today, which was normally where we're our best. He seemed to be better when he got out front _ we were good when we got out front toward the middle of the race and we just got too loose in those long runs. I would get loose in the corners, looser and looser.
"I did all I could do on the inside, but we had the No. 6 (Trevor Bayne) and some other dummy racing side-by-side in front of us and I was way loose in traffic and I got loose going into (Turn) 1 and Harvick jumped to my outside. He was just faster in the end. He was just gone. He was quicker, got me in a bad spot and he was gone. One of those deals. I think we could have held them off on a clean racetrack, but the No. 6 car is in the damn way every week. That's pretty normal."
On the plus side, Truex Jr. took satisfaction that his team's body of work this season allowed him to clinch a Championship 4 slot one week early. "It feels great," said Truex, who posted his 24th top-10 finish in 2017 and his 14th top-10 result in 25 races at TMS. "It feels amazing – that's what we set out to do this year was to make it to Homestead and fight for the title and we feel like we're right there. I just can't wait to get there and get back to work. I wish we could have won today – it would have been a little sweeter going and locking it up in Victory Lane – but we were off a little bit there at the end."
Harvick joined Kyle Busch as the only drivers to have won at TMS in all three NASCAR touring series. A five-time winner here in the XFINITY Series, Harvick has single wins in both the Camping World Truck Series and now in Cup.
Kyle Busch was a non-factor after cutting a tire on the opening lap en route to a 19th-place finish, one lap down. He will take his Martinsville win and 4,118 points into Phoenix Raceway.
Hamlin's third-place finish in the No. 11 FedEx Office Toyota left him fifth in the standings with 4,092 points, 76 behind Truex Jr. and 19 back of Keselowski, the 2012 Cup champion from Team Penske who placed fifth in his No. 2 Wurth Ford and has 4,111 points.
"You know, obviously the No. 4 and No. 78 were really fast all day," said Hamlin, who led three times for 65 laps. "We had a really good FedEx Camry, just had a couple bad restarts there where I went high, lost my track position and we had to take two (tires) to get that track position back that I lost. Overall, a good day. I mean great points day. We scored a lot of points, but lost _ lost positions there with the No. 4 winning, so we'll just keep digging, keep giving ourselves a shot to win and hopefully next week will be our week."
Ryan Blaney is sixth in points in his No. 21 Motorcraft/Quick Lane Tire & Auto Center Fusion with 4,089, 79 behind the leader and three behind Hamlin. Chase Elliott, driver of the No. 24 Hooters Chevrolet SS, is seventh in points with 4,062, 106 behind the leader and 27 behind Blaney.
Meanwhile, seven-time/reigning Cup champion Jimmie Johnson is eighth in points with 4,060 – 108 behind Truex and two behind Hendrick Motorsports teammate Elliott after a miserable finish of 27th – three laps down to Harvick. Johnson admitted he and crew chief Chad Knaus were exiting Texas scratching their respective heads.
"Yes, probably more than anyone else is," said Johnson, who said he fought a corner entry handling issue in his No. 48 Lowe's Chevy SS all day. "We've got to figure something out. Kansas (another 1.5-mile speedway) was a lot like this. It was just extremely difficult to drive the car and carry entry speed. And then we had a loose wheel and then contact on a restart. We started off in a hole and just kept digging a deeper one as we went.
"I'm definitely disappointed. And, I honestly just feel bad for my team. These guys are working so hard. And to work this hard and not see any speed go back in the car and have bad results as the last three weeks have been is pretty disappointing."
Still, a win by any of the aforementioned five Playoff hopefuls next Sunday in Avondale, in the Arizona desert, will advance him into the Final Four.
"It's been a good track for us," said Johnson, a seven-time Cup winner at TMS. "But this last half of the year has been really weird.  In places where we expect to run well and traditionally do, we haven't. But I know we're building a better race car and taking a few new ideas to Phoenix and we'll go there and fight as hard as we can. And that's one thing this team will never do is give up." 
By John Sturbin
Share & Enjoy