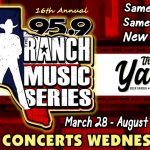 95.9 The Ranch's FREE Music Series Returns for its 16th year from The Yard, the newest bar in Fort Worth's West 7th, for 2018!  Enjoy live music every Wednesday night March 28 through August 29th, and as always, its FREE, 21 and up!  
DOORS OPEN AT 4PM  /  MUSIC AT 7PM
Ben Ryan brings you the action live on air every Wednesday!

3017 Morton St, Fort Worth, TX 76107

SPONSORED BY







BEN RYAN'S LIVE BROADCAST
Ben Ryan broadcasts live every Wednesday starting at 7pm from The Ranch Music Series with happy hour drink specials and artist interviews, brought to you by Lone Star Beer. 


SCHEDULE
Mar 28 – Josh Ward / Larry Hooper & The Reserves
April 4 – Mike & The Moonpies / Judson Cole Band
April 11 – Charlie Robison / The Buffalo Ruckus
April 18 – Deryl Dodd / Randall King
April 25 – Kelly Willis / Chance Ray & The Good Sinners
May 2 – To Be Announced
May 9 – Dirty River Boys / Jeff Plankenhorn
May 16 – Dalton Domino / To Be Announced
May 23 – Cody Canada + The Departed / The Drugstore Gypsies
May 30 – Bri Bagwell / Clay Hollis
June 6 – To Be Announced / To Be Announced
June 13 – Shane Smith & The Saints / Mason Lively
June 20 – Grady Spencer & The Work / Evan Bartels
June 27 – Jack Ingram / John Baumann
July 4th – NO SHOW
July 11 – Kyle Park / Tyler & The Tribe
July 18 – To Be Announced / Brent Alexander
July 25 – Dale Watson / Celine Lee
Aug 1 – To Be Announced
Aug 8 – To Be Announced
Aug 15 – To Be Announced / To Be Announced
Aug 22 – Bart Crow / Saints Eleven
Aug 29 – To Be Announced / Ray Johnston Band

STAY TUNED FOR MORE DETAILS
Share & Enjoy